Michael C. Hall Bio 2021: Age, Dexter, Relationship, Net Worth
Introduction
Michael C. Hall (born February 1, 1971) is a popular actor who is famous for his portrayal of the role of Dexter in the Showtime thriller drama "Dexter". After getting famous from Dexter he became equally famous from the show Six Feet Under where he played the role of David Fisher. Michael was very passionate about Broadway and acting before abandoning his dream of becoming a lawyer. Due to his fantastic performance from Six Feet Under and Dexter he has been nominated and won several TV awards as well. Hall has won SAG awards and has been nominated for several Emmy Awards. He has also won the People Choice Awards for the best actor for his role in Dexter. After the role of Dexter, Michael has amassed lots of social media followers. Currenlty he has just over 30,000 social media followers on Instagram and over 200,000 social media followers all around.
Biography
Michael C. Hall was born in Raleigh, North Carolina, USA. His father's name was William Hall and his mother's name was Janice Hall. William was an employee in an IBM company whereas Janice was a professor of mental health at Lees-McRae College. Regarding siblings, he had an elder sister however she died even before Michael was born due to some medical condition. Michael was very intelligent and one of the brightest students during his school days.
Growing up he wanted to become a lawyer however he was very fond of broadway and dramas so he had an instinct to become an actor. Talking about his education, Michael joined Ravenscroft School and later graduated from Earlham College. To pursue his law career he joined some other university but dropped out to join Tisch School of the Arts to become an actor. Michael had some struggles during the time but eventually got graduated from the university in 1996.
Career
After graduating from Tisch School of Arts, Michael was instantly attracted to broadway theater and started his broadway career in 1998 when he started as a thespian. He started acting on Off-Broadway theatre in New York and contributed to one of the best broadway shows in Macbeth. Hall was instrumental in the play Henry V when he portrayed his acting skill in the popular The Public Theatre. He was starting to promote his name in the theatre industry and even joined the play Cabaret as an Emcee which compounded his reputation in broadway and theatre even more.
Michael Hall's reputation as a theatre artist was not only limited to the theatre industry but all across the TV industry and Hollywood as well. In 2001, he made a debut as David Fisher in the popular dark comedy show Six Feet Under. His performance was critically praised all around the entertainment industry and many people became fans of Hall who did not know him as a bonafide theatre actor. Due to the success of Six Feet Under Michael started to gain lots of offers from movies and finally made his movie debut in a thriller titled PayCheck. His movie career did not go as he planned and for five years he continued to appear on Six Feet Under and made some cameo roles in other movies as well.
However, his life was about to change in 2006 when Showtime was about to cast him in serial killer drama Dexter. The concept of the show was very unique and Michael played the role of Dexter perfectly. For eight-season he was never stale and many fans all around the world loved him and adored the show. During his stint as Dexter Hall made a couple of appearances on movies such as Gamer Kill Your Darlings and Peep World etc. Michael returned to broadway when he returned for the role of The Realistic Joneses.
Michael C Hall has returned to TV with another spinoff of Dexter, 10 years after season 8 was finished in Dexter: The New Blood, and fans are waiting patiently and hoping the new season will be as good if not better than the first one.
Marital Status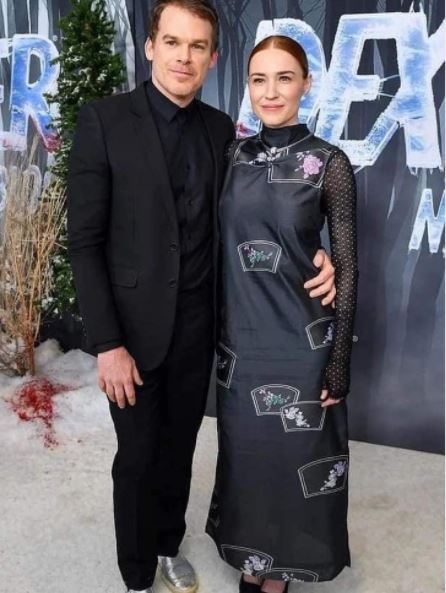 Michael C Hall is currently married to Morgan Mcgregor. The couple tied the knot in 2016 after a few years of dating. Morgan became the associate editor of the Los Angles Review of Books. Before Morgan Michael was married to the co-actor of Dextor Jennifer Carpenter who played the role of Debrah a half-sister of Dexter but got divorced in 2011 after just 2 years of tieing the knot. Hall was also previously married to Amy Spanger in 2002 but divorced in 2006. Hall does not have any children to date.
Net Worth
Michael C Hall is a popular actor becoming a fan favorite from shows such as Dexter and Six Feet Under. He is currently focused on new series of Dexter known as Dexter: The New Blood. Hall has earned a lot due to his primary career as an actor and also various sponsorships, brand deals. He is also a bonafide entrepreneur and businessman as well. Michael C Hall has a net worth of approximately $25 million as of 2021.
Interesting Facts
Michael C Hall married Jennifer Carpetnor who played his half sibling in Dexter which infuriated the fans.
His elder sister died in infancy due to some medical condition.
Hall has returened with a new spin off show of Dexter named Dexter New Blood.
He started his career as a theatre actor before joining TV industry.